National Weather Service Alerts for Carroll County, MD
Latest 10 Responses

12/18/2018: [Sta 2 Fire]17:02CT: CARDIAC ARREST 3537 N EMORY RD BOX:0213 DUE:M29,BM855,E23,BE851 18021142 17:07
12/17/2018: [Sta 2 Fire]09:20CT: MUTUAL AID ALARM BC, 85-23 18000 MARSHALL MILL RD/MT CARMEL BOX:BC00 DUE:E23,E72,T2,RS4 18021064 09:23
12/16/2018: [Sta 2 Fire]20:55CT: UNCONSCIOUS PERSON 4276 BUCKSKIN TRL BOX:0217 DUE:M29,U2 18021043 20:56
12/16/2018: [Sta 2 Fire]11:31CT: HEADACHE-BLS 4391 DOWNHILL TRL BOX:0217 DUE:BM855,FR2 18021019 11:33
12/16/2018: [Sta 2 Fire]02:34CT: ALLER REACTION-BLS 906 S MAIN ST BOX:0217 DUE:M29,U2 18020992 02:51
12/15/2018: [Sta 2 Fire]14:48CT: VEHICLE COLLISION HANOVER PKE / N CAPE HORN RD BOX:0411 DUE:M49,RS4,E23 18020953 14:56
12/15/2018: [Sta 2 Fire]12:24CT: VEHICLE COLLISION 3800 BLK HAMPSTEAD MEXICO RD BOX:0218 DUE:M29,E23,M48 18020949 12:25
12/15/2018: [Sta 2 Fire]01:07CT: BLDG FIRE 832 S MAIN ST, OLD TOWN GRILL BOX:0217 DUE:E23,BE851,E43,E91,T2,BT404,BT313,M29,CS4 18020920 01:08
12/14/2018: [Sta 2 Fire]18:13CT: CO DET ACTIVATION 918 CENTURY ST BOX:0217 DUE:E23 18020902 18:14
12/13/2018: [Sta 2 Fire]20:17CT: TROUBLE BREATHING 940 EMORY CHURCH RD BOX:0213 DUE:M99,FR2 18020851 20:19
Mission Statement
The Hampstead Volunteer Fire Engine & Hose Company No. 1 is dedicated to protecting and preserving the lives, property, and environment of the citizens and visitors of the communities to which we serve. We will achieve this by providing the highest levels of fire suppression, rescue services, and emergency medical care through continual training, public education, and emergency response.


***** NOTICE *****
Due to the Fire Company Memorial Service on Wednesday evening at Eline Funeral Home for life member, dear friend, and family member Art Carroll, the Santa Detail for Night #3 (Wednesday) will be rescheduled to Saturday, 12/22/2018.
***** NOTICE *****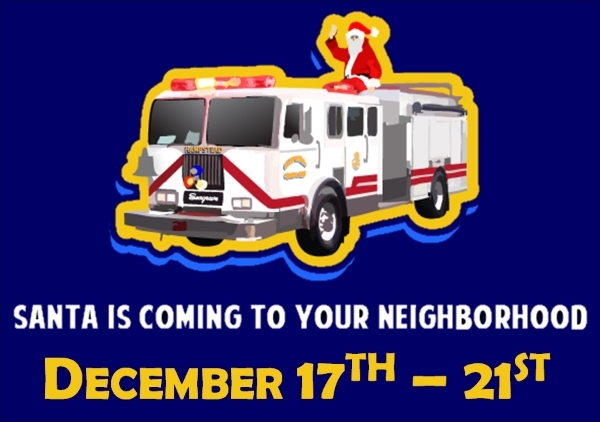 OFFSET HEAD-ON COLLISION ON RT 482

Firefighter/EMT Richard Zaykoski, November 24

Around 1:30, on a rainy Saturday afternoon, Station2 was alerted for a vehicle collision with a child involved on Hampstead-Mexico Road. Upon arrival, crews found all patients in a nearby house where the residents had them stay out of the rain. After examination by M29, the patients elected not to be transported to the hospital. Airbags and the proper use of safety devices helped prevent serious ... (Full Story & Photos)

BEDROOM FIRE

Fire Captain J.J. Lynott, October 08

Just before 6PM on Monday evening Hampstead VFC and surrounding companies were alerted for a report of a dwelling fire with rescue in the 4800 block of Hillock Lane in Roberts Field.

Engine 23, Truck 2, Chief 2, Chief 2-1 and Captain 2 responded. Units arrived to find a two story, middle of the group townhome with a bedroom fire on the second floor.

Chief 2 established the Hillock Lane Command ... (Full Story & Photos)

HEAVY FIRE SHOWING ON ARRIVAL

Fire Captain J.J. Lynott, October 07

Early Sunday evening just before 5:30 PM Hampstead VFC, and surrounding companies were alerted for a house fire in the 3800 block of Yellowstone Ct.

HVFC units responded and arrived to find a single family dwelling with heavy fire showing. Chief 2-1 established command and requested additional resources.

Crews initially made an aggressive interior attack, but do to deteriorating conditions an order ... (Full Story & Photos)

DONATION FROM ST. MARK'S EVANGELICAL LUTHERAN CHURCH

Firefighter/EMT Richard Zaykoski, September 09

The members and staff of St. Mark's Evangelical Lutheran Church presented the Hampstead Volunteer Fire Company with a donation on Sunday at the conclusion of the 9:15 service. Afterward, despite the heavy rain, some children (and adults) toured Engine/Tanker 24. The officers and members of the Fire Company are very appreciative of the generous gift from the Church. Although the Church is working ... (Full Story & Photos)

2018 PARADE WINNERS

Fire Lieutenant Troy Hipsley, August 16

The officers and members of the Hampstead Volunteer Fire Company thank all who participated in our parade. We greatly appreciate your time and effort in helping to make the parade a success!

Below is a list of winners:

1. Fire Company making the Best Appearance
Upperco Volunteer Fire Company

2. Fire Company making second Best Appearance
Manchester Volunteer Fire Department

3. Best appearing ... (Full Story & Photos)

2 MEMBERS GRADUATE FROM BCoFD FIRE ACADEMY

Fire Lieutenant Connor Risner, August 01

On Tuesday, July 31st 2018, two Hampstead VFC members graduated from the Baltimore County Fire Rescue Academy. Lydia Dickmyer and Anthony Rhodes were 2 of 31 recruits to graduate Tuesday from the 111th recruit class. Lydia and Anthony now become probationary firefighters after 18 weeks of tough and strenuous training and academic work. Recruit Dickmyer is now assigned to station 18 in Randallstown, ... (Full Story & Photos)

KITCHEN FIRE

Fire Lieutenant Connor Risner, May 30

At 19:49 hours, stations 2, 4, 7, and Baltimore County 85 were alerted for a kitchen fire with rescue on Harrowsmith Drive (box area 2-6). ET-24 arrived to find a two story single family dwelling with smoke showing from side Charlie (rear). Command was established by chief 2-1 and the RID (Rapid Intervention Dispatch) was started. The engine company deployed a 1 3/4" hand line to the rear of the ... (Full Story & Photos)

RECRUITMENT DAY

Firefighter EMT Isaac Yohn, April 08

On April 15th, 2018 The Hampstead Volunteer Fire Company will be participating in National Recruitment Day. Come join us from 10am to 1pm at the fire station. We will be giving station tours, have an auto extrication demonstration, and we will have information on how to join the fire company. The auto extrication will start at 11am in the back parking lot of the fire station. We hope to see you there! ... (Full Story & Photos)

Your feedback is important to us! Feel free to sign the guestbook.
All photographs are the property of the HVFC unless otherwise stated.